CHARACTER
Name:
Ceil Lorence
Age:
17
Gender:
Female
Species:
Rabbit Fanus
Call Sign/Symbol:
http://fc01.deviantart.net/fs20/f/2012/181/6/5/65870e210af7362732118f183bb39175-d144zrv.jpg
Occupation(s)/Student Year (If a student):
Second year
Appearance:
Standing at 6'0" and weighing barely 150 lbs. This Rabbit fanus has pure white ears coming out of her head. The moon rabbit also has a white fluffy tail. She even has blood red eyes that are almost like the shade of rubies. She has long purple hair that comes down to her knees. Although its cut short in the front were its not always in the way. She wears a business like wear all the times and always seem very professional. She speaks in a sweet voice that covers over her whole existence. She has almost pale white skin although its a tint of paleness. She always has a light pink blush on her cheeks.
On the back going from the middle and spreading out to the shoulder blades.
Click me
On her right breast about the size of a dollar coin.
Click me
On her left hip going from her pelvis to her waist.
Click me
going across her lower back.
Click me
Around her belly button around. The hands reaching towards her belly button.
Click Me
History:
This story does not end as far Ceil could tell. The bunny like girl has wanted to forget her pat since the day she got out of it. Sadly, it has never turned out that way. When getting the Celtic tattoo for new beginnings at the age of 15. She decided that she will not be held down any longer. It was across her right breast as she did it herself. After all the tattoos she felt like she liked this one was the best. The tattoo bled as she sat there in the chair watching herself in the mirror. Her deep red eyes fell on herself in a sickening manner. She was disgusted by herself. She hated herself. That was why she put this tattoo on herself. To symbolize the new things that will start to begin. Closing her eyes she felt the memories start to fade away. They would always be burned into her head, but no more will they plague her from moving. The phone rang as she sat there and answered it. It was from the academy. They had accepted her as a full fledged member of Beacon.
The girl had entered the school as a first year. Although due to her lack of communications they did not sign her a team. She was not a people person. Keeping to herself mostly. Although Ceil never felt like that was the decision. She was afraid that the Beacon had looked into the past of her family line. Although it would be impossible for them. Because Ciel Lorence did not exist in this world. There was no such name on a birth certificate nor a death certificate. Her name wasn't Ciel Lorence. That was for sure. As she talked to the councilor on asking what she should do. The councilor suggested that Ceil takes care of the garden. Its not a secret garden, but in fact a small garden. There Ceil was given her team, although she never seemed to have talked to them. She was more content on to taking care of the garden in the back of the school. There she grew flowers and bushes of all different kinds.
Personality:
Like a mirror she reflects those around her personalities. In a bar were its rowdy and loud. Ceil will be rowdy and loud. If at a funeral its sad and depressed. She will also be sad and depressed. This only happens when she is with a group of people. There has to be more than 4 people for her to reflect those feelings. Due to her reflecting feelings, she doesn't friends, nor does she stand out. She follows the crowd to die down with it. Ceil does not like any attention towards herself, although she does seem to draw attention in.
Ceil is a Liberal. She thinks that everyone should be equal. Actually she knows that everyone should be equal. She is brutally honest when someone is mean to a different race. Ceil has a way to put a person down mentally in their place. She has a strong voice that is brutally honest. Not only that, but Ceil believes that anyone that approves of slavery are unjust and should be sentence to the impel down. Ceil thinks that everyone is equal.
Ceil is the definition of a Environmentalist. She is highly skilled in sewing and gardening and herbs. Although she isn't that much of a cook. She takes the earth very serious and believe that people should not litter nor leave waste around. She disapproves of chemicals and things that are not good for you. Ceil seeks to improve the environment in lots of places. This also makes her a bit of a hippy as well. Ceil has a weird openness, like she will accept anything. She has a habit of accepting anyone in her arms. She will automatically understand their pain. She has a wide understanding and since she craves for information she is unique and loves to listen.
Strengths:
-Very muscular
-Can take hits
-Super/Unnaturally Strong
Weaknesses:
-Not very quick
-Acrophobia: Fear of heights
-Gymnophobia: Fear of nudity
-Gamophobia: Fear of marriage
Semblance:
Name: Finder
Description: Coming from a line of spiritual belief. They pick up such a habit by traveling for so long. Although where the ability comes from is not known. Most think it was a strong connection between a man and a woman. They were madly in love, but sadly the man had to go away. The woman would spend countless hours over her candles to wish for his safety. She would watch him in her dreams. The only way to be in contact was through this link.
Usage: By sitting in a room in complete silence, the user is able to find a person spiritually. She can only do this if she met the person and touched them physically. By doing this she leaves an imprint on the person. She can only use this once per thread. By using this ability she can find anyone in the world. Being able to see their reactions and what they are currently doing. But only for a couple posts will she be able to lurk on them. Then she figures out were they are automatically.
WEAPON
Name:
Cancer
First Form:
Length: 42.00 Inches
Weight Without Ammo: 16 lbs
Weight when fully loaded: 21 lbs
Ammo Carrying Capacity: 200 Rounds
Ammo: The ammo inside the gun is laced with fire dust. Making it incredibly explode when hitting her target. When hitting her target it is able to hit the target and explode either inside the wound or on the outside burning the opponent.  
Name:
Virgo
First Form:
Length: 30.00 Inches
Weight Without Ammo: 20 lbs
Weight when fully loaded: 25 lbs
Ammo Carrying Capacity: 90 Rounds
The Semi-Automatic Sniper rifle currently has a max range range of 230 Meters.
Ammo: The ammo is laced with Wind dust. So when shoot the bullet dose a twist as it goes straight through armor, or a person skin or a grimm. The bullets are able to travel up to 100mph. The bullets are able to go straight through people.
Name:
Leo and Aries
First Form: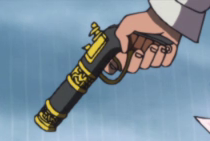 Length: 10 Inches
Weight Without Ammo: 5 lbs
Weight when fully loaded: 10 lbs
Ammo Carrying Capacity: 7 Rounds
In order to inflict lead poisoning onto her opponent, she has to shoot them at least three times with Leo or Aries. After that opponent will suffer mid side effects like headaches, fatigue stomach pain, nausea and being unable to concentrate. The poisoning last until the opponent gets rid of their lead in their bodies, cure the sickness or until the end of the thread, which ever comes first. Has max range of 10 meters, after that the bullet(s) won't be able to harm her foes.
History:
All Guns were hand made by Ciel when she was smaller.
Last edited by Killua on Thu Feb 12, 2015 12:51 pm; edited 2 times in total



Posts

: 218


Reputation

: 0


Join date

: 2014-12-22






Posts

: 218


Reputation

: 0


Join date

: 2014-12-22






Posts

: 2607


Reputation

: 0


Join date

: 2014-09-20


Age

: 22


Location

: Somewhere in the midwest



---
Permissions in this forum:
You
cannot
reply to topics in this forum